As quite a few people have been posting questions relating to ESTA (Electronic System for Travel Authorization) lately - a lot of them worried about what the site is about and what ticks they should put in what box - I thought I would try to give you a rough idea as to what to expect when you go to the site to complete your form.
The link below will take you to where you need to be
https://esta.cbp.dhs.gov/esta/esta.html?_flowExecutionKey=_c68867A20-31D1-5F46-A3B1-84BFECC8C68E_k262991A7-FD7B-5605-CD32-37EB66A5B1AD
and the first screen you can expect to see is this one.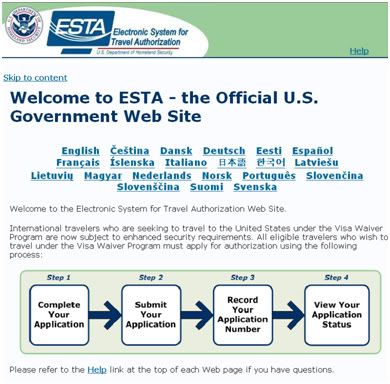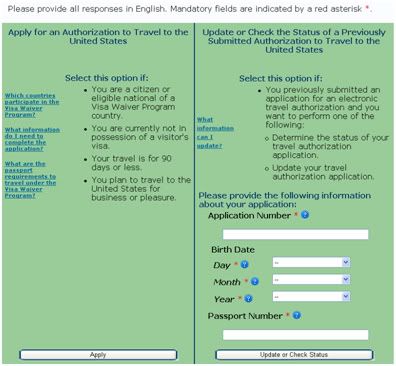 If you are filling in your ESTA for the first time you need to click the 'Apply' button on the left hand side.
This will take you to the following screen.
At this point read all the text in the box above then, if you are happy and understand the information provided, select 'Yes' and then click Next.
If you are not happy and need more clarification then select 'No'. This will take you to a page with some FAQs on it for you to find the answers to any questions you may have.
Once you have clicked Yes you will be taken to the following page.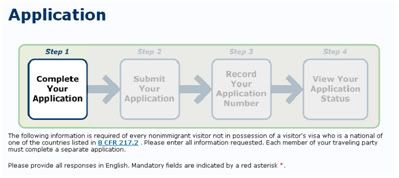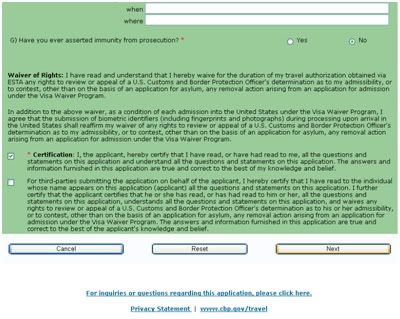 You only need to fill in the information that has a red
*
next to it.
People have asked in the past about flights and addresses where you will be staying - but as you can see these are not one of the required answers.
Once you have filled in your personal details you are then asked a series of questions that require a Yes or No answer. You obviously need to answer these questions honestly, but if you have been a good girl or boy you should be able to select No to all of them.
Once this is done put a tick in the 'Certification' box and then hit the Next button.
Unfortunately I couldn't get onto the screen after this but, if memory serves me right, the next one is the one that gives the all important Yes or No. There is also a button on this page that allows you to go back to the beginning and start a new form for someone else.
I hope this helps some of you with the process - if only to give you a 'Heads up' as to what to expect.
If I have missed something - or anybody else has anything to add - then please feel free.